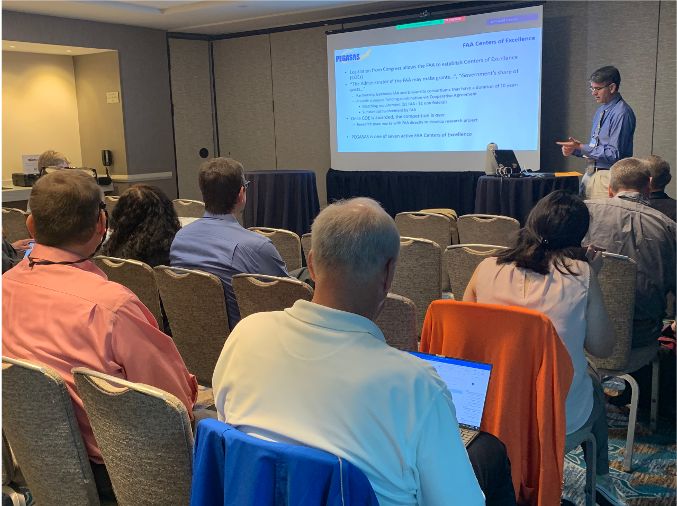 PEGASAS held its Annual Meeting in collaboration with the AIAA Aviation 2023 conference in San Diego, CA. The goal of the meeting is to bring together the FAA, Researchers, and the PEGASAS Advisory Board to share the latest research efforts, receive feedback and guidance on next steps, and plan for future research questions relevant to the safety, accessibility, and sustainability of General Aviation.
Several of the ongoing projects provide updates:
Project 1, Airport Heated Pavements, presented the latest work on this innovative technology that is showing to be a viable option to ensure snow- and ice-free airport pavements from economic, energy consumption, and environmental sustainability perspectives. Project 2, Rotorcraft ASIAS presented new research on Vortex Ring State recovery techniques and a planned study to formally compare the available recovery techniques: Traditional and Vuichard. Project 32, Rotorcraft wire-strike safety presented plans to investigate data fusion strategies and AI/ML techniques to better present this threat to the pilot. This work has important implications not only for helicopter safety for urban air mobility and its numerous low-altitude operations in an urban environment. Project 33, Augmented Weather Interfaces Project, presented the latest development efforts to provide an XR-training authoring framework that would allow instructors the ability to create and distribute customized XR-enhanced weather training, which relies on the extensive database and modeling of weather phenomena. Project 35, Enhanced Hands-minimized Interfaces, continues to make progress on provide pilots a tool to assist them in submitting PIREPs more easily and reliably. The speech-to-text techniques and dissemination approaches are expected to not only make it easier for pilots to submit PIREPs but also encourage them to do it more often and contribute to this critical part of aviation and safety.
The research teams received valuable feedback from the advisory board and FAA technical monitors and look forward to continuing the work and get started on new and important research for general aviation.